St. Francis de Sales church buff-colored exterior features large, pointed arched windows, decorative columns and ornate trim.
In the tradition of the European Gothic churches, St. Francis de Sales is adorned with a magnificent array of stained glass windows.
The church 130-foot long aisle, one of the longest of the churches in St. Louis, and its beautiful interior and solemn liturgy has made it a popular place for weddings. The church has four bells including one from the original church.
Gothic or pointed arches used inside the building create tall, open spaces and directs the eye skyward and giving the interior a grand appearance.
The interior features multiple apses, and richly carved wood, statues and details.
The church interior was designed as a German hall church with ceilings over the side aisles almost as high as those over the main aisle increasing the open feeling and spaciousness.
The High Altar and the reredos, the ornate screen behind the altar, are in a large apse. Smaller apses on the sides of the main apse feature altars to the Blessed Mother and to St. Joseph.
The transept projects from the side of the nave, feature altars to Our Mother of Perpetual Help to the North, and the Infant of Prague to the South.
The Baptistery features Byzantine-style glittering mosaics. It is the same artists who worked on the mosaics in the (new) Cathedral Basilica. Lapis Lazuli stone from Persia was used for the blue sky mosaic in the vaulted ceiling.
Crucifix covered during Passiontide.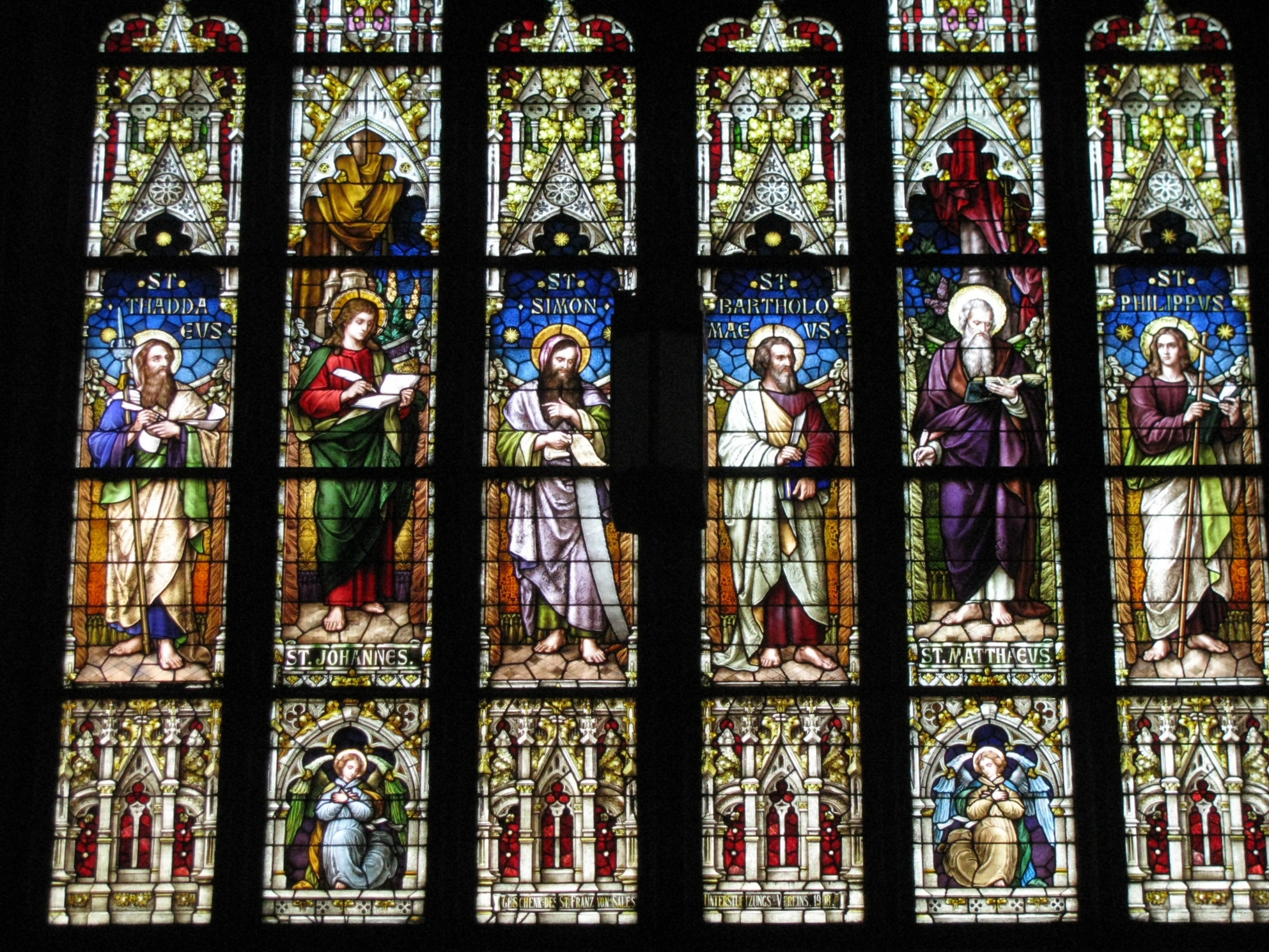 The churchs stained glass windows were created by Emil Frei, Sr., considered to be St. Louis' premier stained glass artist, who studied at the Munich School of Arts and Crafts, and designed the stained glass windows of several St. Louis churches.
Also in the church are statues of St. Francis de Sales, St. Nicholas, St. Henry, St. Teresa, St. Catherine, St. Teresa of Avila, St. Aloysius, St. Ann, St. Anthony and St. Francis of Assisi.
The Nativity scene is placed at the altar of the Blessed Mother during the Christmas season.
The Pieta is next to the Infant of Prague Altar in the South transept.
The elaborate interior frescoes were painted by Fridolin Fuchs, another German immigrant. Fuchs said he based his ceiling frescoes on the artwork in the Gothic churches of Germany.
Clock faces were added to the steeple following the 1917 anniversary celebration.
A shrine to Our Lady of Lourdes is on the Churchs front lawn.